When Life Hurts! 
Rumours can destroy people's lives. How are we to respond when we hear bad news about someone, or experience it ourselves, or when the loss in our life is overwhelming? It may be that our health breaks down, or someone we love dies.  What about the day-by-day things that rob us of love, safety, peace, enjoyment? The world has gone crazy with violence. First– principles of life that helped me, followed by teaching of the Bible for a quality life.
THE TEACHINGS OF LIFE ITSELF
Each of us develops a core value about life from our childhood: about work, money, family, security, and even wealth and poverty. These fundamental beliefs affect the choices that we make, and some of the reactions that we have. The core values either limit us,  or set us free to be who we really want to be. I have learned that one can change the direction of life and find a more fruitful and fulfilling life at any stage.
No one has the same core values, but we tend to be drawn towards those with similar beliefs. I speak to the ordinary person to offer guidelines that will bring healing to our nation and our world and is helping to heal myself.  General things, basic psychology someone might say, but the truths that can help us all.
I speak to someone who is suffering, because it takes courage to face the blows of life.  There was no help  when the medical profession I had given my life to failed our family in the terrible death of my grandson. I fled the country for awhile to try to escape the pain, but that tragedy lingers on in the life of my child. I offer hope because I had to find it myself, and keep doing so.
We so easily limit ourselves by what we say to ourselves and what we absorb from the voices of other people. "I can't do that!" So of course you cannot.  Want to be rich? Then learn how to be rich. But thousands of rich people and lottery winners can attest that there has to be more to life than fame and fortune. What you believe becomes your reality. Thoughts lead to action.
 Believe in yourself, that you have worth, that you can contribute something worthwhile to this world, and that you are unique and valuable. I personally feel we all want and need that, but the attacks against self worth are undermining our society.
Look for creative ideas to express yourself, even dream bigger dreams even if your circumstances say it is impossible. Then fine tune things and begin baby step to get what you really want. Write out your goals. Study what others have done.  Research areas in which you lack knowledge. With regard to finance,  learn to control  the money you have,  especially one's spending. and always live on less than your income.  Talk to your partner about these things so you are in agreement in the direction of your lives.
Gather people around you that encourage you,  and limit the time you spend with those that do not. Even if you are dying, pray,  because there is no  greater resource available to you than releasing God's power to work in the lives of yourself and others.
2. Love yourself. The suffering, the failures, the jolts that hit us all, can wound us internally and affect how we view the world around us. We need  time to heal from the pain that limits us. How? By stopping all negative thinking first of all. Listen to what you are saying to yourself. As soon as a negative thought comes into your conscious thinking, "Nobody cares , " stop it, block it, and replace it by saying something nice about yourself to yourself. "I am a kind person." Find something to be thankful for this very day, and  do it every day. You can control your thinking.
It took me six years of my life to learn to do this, and I thank Oprah for teaching me because I was floundering in grief, endlessly going over unhappy thoughts again and again in my mind like a vicious circle. I had to stop it all and learn  a new pattern of thinking, which I am sharing with you.
Be very careful what you think about, "things that are true, are lovely and are of good report:…says the Bible. So fill your mind with reassuring thoughts, especially  that you are loved, you  are worthwhile,  because God does love you, and made you for a purpose.  He wants only the best for you, wants to prosper you and give you hope.
Now bring your statements in line with your beliefs. Speak positive words about your future, yourself and your situation.
Fight the battle for control of your mind. If you are depressed, get medication to balance out the depleted  chemicals in your body, and seek help if you are spiraling downward.  Even if you feel that you are the greatest failure in the world, you are not. You can turn your life story into a message and money that can completely change your current situation. Begin where you are and let the ashes of your life become your greatest power for good.
3. Love others: Let go of the list of wrongs you may have in your mind against anyone, and overlook insults. It isn't about changing your opinion. It is realizing that anger and bitterness are hurting you and affecting your relationships.  Forgive others and yourself, and give thanks instead. Stop talking out loud in recounting the wounds of the past. One day you may realize that painful experiences no longer hurt, and now you have a great message to share with others.
Realize that loving others is no guarantee that they will love you back, or even care. They may even abuse your generosity and kindness. Don't let any bad experience stop the flow of your help because  too many people believe the world owes them something,  It does  not. Encourage people to work even for  few seconds before handouts, to encourage self respect. "Would you help me……….." 
The Bible says if you will not work, you should not eat. So how to find the balance of loving through giving and not giving, that is not easy to decide for any of us. If there is an immediate need for shelter, food, safety on the street. That should draw on our compassion.
However, there seem to be three groups of those in need: people who deliberately try to deceive you into feeling sorry for them to get freebies, the panhandlers.   Sadly a growing number of people develop a helplessness and inability to face the responsibilities of life, and soon find themselves on the street, hiding behind a wall of indifference, addictions, some with severe mental illness,  and so on. They do need to be cared for by others in providing housing and financial management. But not everyone who is homeless is like this, and a third group includes multitudes who may have lost their job, or may be running from abuse, even Christian widows who love Jesus and  professionals, each with a heartbreaking story.
The Salvation Army, social workers and other front line personnel are doing a wonderful work of trying to help suffering people. In some communities the Church is strongly present by providing free community meals and operating Thrift Stores. I just read of one church in the States that has developed a parking lot with washrooms and showers where people can live in their cars at no cost. Together they are putting faith into action.
"Love your neighbour as yourself, "the second greatest commandment.
4. Find what you are passionate about in life, and build your  life around this.   It may mean turning a hobby into an income producing business or just enjoying spending time doing something for pure pleasure. Give yourself permission to enjoy life, and self care. Mothers especially struggle with this one sometimes. Slow down, go for a quiet walk in nature,  spend time with those you love, lots of time.
Hating your job will limit your future advancement. Try to identify what is causing the strain and decide to learn something positive from each chapter in your life. Look for it. Decide to be the best employee you can be at any job you have.  Each experience, if viewed positively, can help  you become a better, more caring person and that should be our goal. "Any fact facing us is not as important as our attitude toward it, for that determines our success or failure" Norman Vincent Peale.
5. Save for retirement. This is so very important,  as one who now lives it. Changes are coming, and there may be no  guarantee of a government pension for those who expect one. Rents are now higher than many people's pensions, causing untold suffering. So regularly put away some money where it can compound in interest,  develop multiple streams of income, especially passive ones not related to employment , and review and update your financial goals annually. Leave an inheritance to your children's children.
I believe that having specifics goals is important in life, to choose the direction of your life instead of just letting it happen to you. I've done both, but having a focus lifts me out of restlessness and makes life more enjoyable.
Suddenly, abruptly my working life was over, and I awoke to realize  that I gave away most of my income to other people to have a life style I wanted, and none of that mattered any more. It shocked me. I had to find a new life for myself, a purpose, a reason to get up every day. Something of value to give away. This website is my gift to the world, to you,  and to myself. Preserving history matters to me,  as does faith and family.
But what about today? I've  been studying the five love languages, ways in which people want to receive love,  and how they prefer to express it to others :  through touch (affection), words of affirmation, gifts, acts of service. and spending quality time with someone.
Identifying these in myself and in those around me, has brought deeper understanding of humanity.  Helping fill up the love tank in other people by using  all five love languages is a wonderful goal and healing touch in my own life. May you be so blessed today.
What would you do,  if you were not afraid?  Let's stretch a bit, trying out new interests from time to time as we try to identify what really gives us joy?
5. Give away a portion of your income to a worthy cause that you support. Somehow this releases a positive flow in your life, something hard to understand if you have only pennies left this month on which to live. Pennies no longer circulate in Canada, but you get the principle. Making someone else's life more positive by donating your money, your time, and your guidance will enrich your own life in amazing ways that may even surprise you.   It may save your life..
Everyone you meet is fighting a battle you know nothing about. Be kind. Always."
A QUALITY LIFE
Deuteronomy 5:16; Exodus 20:12  "Honour your father and your mother, as the LORD your God has commanded you, so that you may live long, and that it may go well with you.
Proverbs 23:22 "Listen to your father, who gave you life, and do not despise your mother when she is old."
Proverbs 13:1  "A wise son heeds instruction and correction, but a scoffer listens not to rebuke.."
Proverbs 29:15  "A child left undisciplined brings his mother to shame."
Train up a child in the way he should go, and when he is old he will not depart from it.
Psalm 15:1-3 (NIV)  Lord, who will dwell in your sacred tent?….he whose tongue utters no slander, who does no wrong to a neighbour, and casts no slur on another."
Psalm 101:5 "Whoever….slanders his neighbour, him I will cut off…who has a haughty look, and a proud heart I cannot and will not tolerate…."
Proverbs 10:18   "He who hides hatred is of lying lips, and he who utters slander is a fool."
Proverbs 19:11   "Good sense makes one slow to anger, and it is his glory to overlook an offense."
Matthew 7:10 "Do to others what you would have them do to you."
Matthew 19:19; 22:35 Jesus said: "Thou shalt love thy neighbour as thyself."
Ephesians 4:31 Let all bitterness and wrath and anger and clamour and slander be put away from you, among with all malice.
II Timothy 2: 22  " Flee youthful lusts and purse righteousness, faith, love and peace. Refuse foolish and stupids arguments, because you know they produce quarrels. The Lord's servant must not be quarrelsome, but be kind to everyone, able to teach, not resentful.

Matthew 5:43, 44  " Love your enemies…bless them that curse you…….do good to them that hate you… and pray for those who persecute you."
Luke 3: 15    And the soldier likewise demanded of him, saying, "And what shall we do?" Jesus said unto them, "Do violence to no man, neither accuse any falsely, and be content with your wage."
Romans 12: 19, 20   "Do not avenge yourselves. ….. If it is possible, as much as depends on you, live in peace with everyone.".
Titus 1:5-9    "Be blameless, faithful to one's wife, helping one's children believe, and not wild or disobedient. Not quick tempered, overbearing, not violent, not pursuing dishonest gain. Be hospitable, self controlled, holy and disciplined. Honest."
"If your enemy is hungry, feed him; If he is thirsty, give him something to drink…..do not be overcome by evil,  but overcome evil with good.."
I Timothy 6: 17-18    "Command those who are rich in this present world not to be arrogant nor to put their hope in wealth, which is so uncertain, but to put their hope in God, who richly provides us with everything for our enjoyment. Command them to do good, to be rich in good deeds, and to be generous and willing to share…."
Proverbs 3:5,6    "Trust in the LORD with all your heart. Lean not unto your own understanding. In all your ways acknowledge Him, and He will direct your path."
LOVE is patient, love is kind, it is not jealous, does not brag and is not arrogant. Does not seek its own, is not self seeking, it is not easily angered, it keeps no record of wrongs. It always protects, always trusts, always hopes, always perseveres. Love never fails.  I Corinthians 13
God loves us unconditionally. There is nothing that He doesn't understand, and He keeps on loving.   He knows everything:   the past, the  future, our thoughts, our name,  even the number of hairs on our head, all of it He knows–not that any of us deserve that depth of love– but because of who He is.  God's character is the very essence of love.  Jesus rose from the death, fulfilling all the Godhead demanded as a sin offering for you and me,  and  returned to Heaven to sit at the right hand of the Father, waiting for the fulfillment of the last days. Jesus is coming again.  Hebrews 1:1-3; 12: 1-3
The Godhead is Holy, majestic, the Judge of all, to be feared in deep reverence and respect.
Hebrews 11:6  "For without faith it is impossible to please God, because anyone who comes to Him must believe that He exists, and that He rewards those who earnestly seek him."
Jeremiah 29:11    "For I know the thoughts and plans that I have for you, says the LORD, thoughts and plans to prosper you and not to harm you, plans to give you hope and a future."
I Corinthians 10:13  "There is no temptation taken  you but such as  is common to man. But God, who is faithful, will not let you be tempted above that you are able, but will with the temptation also make a way of escape, so you will be able to endure it.
……………………………………………………………………………………………..
Notes:
You may have heard the words, The Gospel, but maybe wondered what that is. Here is what the Bible has to say about it:
John 3:16   "For God so loved this world, that He gave His only begotten Son, that whosoever believes in Him, shall not perish, but have everlasting life."
"For all have sinned and fall short of the glory of God."   Romans 3:23.
The wages of sin is death, but the gift of God is eternal life. Romans 6:23
"For by  grace you have been saved through faith, and that not of yourselves, it is the gift of God, not of works lest any man should boast. For we are His workmanship, created in Christ Jesus for good works."   Ephesians 2:8, 9
" If you acknowledge and confess with your mouth, that Jesus is Lord,  and in your heart believe that God raised Him from the death, you will be saved."    I Corinthians 9:10
"If we freely admit that we have sinned, and confess it, He is faithful and just to forgive our sins and cleanse us from all unrighteousness." I John 1:9.10
"I urge you to present your body a living sacrifice, holy and pleasing to God. Do not be conformed to the pattern of this world, but be transformed by the renewing of your mind."   Romans 12:1
How, then, are we to live our lives?
"Do not judge, and you will not be judged. Do not condemn and you will not be condemned. Forgive, and you will be forgiven." Luke 6:37
"Let there be no filthiness, nor foolish talk, nor rude joking, which are out of place, but instead let there be thanksgiving."  Ephesians 5:4
"Now the works of the flesh are evident: sexual immorality, impurity, sensuality, idolatry, sorcery, enmity, strife, jealousy, fits of anger, rivalries, dissensions, divisions, envy, drunkenness, orgies, and things like these. I warn you, as I warned before, that those who do such things will not inherit the Kingdom of God. Galatians 5:19-21
"Therefore, rid yourselves of all malice and all deceit, hypocrasy, envy and slander of every kind."  I Peter 2:1
"But the fruit of the Spirit is: love, joy, peace, patience, kindness, goodness, faithfulness, gentleness and self-control." Galatians 5:22-23
"Put on then, as God's chosen ones, holy and beloved: compassion, kindness, humility, meekness and patience, bearing with one another, and if any has a complaint against another, forgiving each other; as the Lord forgives you, so you must also forgive." Colossians 3:12,13.
"Be strong and of good courage, do not fear nor be afraid of them, for the Lord your God, He is the One who goes with you. He will not leave you nor forsake you."  Deuteronomy 31:6.
"Love the LORD with all your heart, and all your strength and with all your mind… and keep His commandments."   Deut 11:1; Joshua 22:5; Matthew 22: 29.
"Let us consider how we may spur one another on towards love and good deeds, not giving up meeting together…but encouraging one another." Hebrews 10:24
Print off a chart provided to encourage systematic reading of the Bible. Why? To discover God's principles for living life today. To imprint our mind so that we build an automatic godly response when trials and struggles arise. To protect us. To heal us. To know God, his ways, His attitudes, He- Himself, so we can worship and learn to understand His plan for the world and our own life.
…………………………………………………………………………………………………
UNDERSTANDING THE BIBLE
A personal commentary as I read through the chapters this year. Here is Chapter One to introduce Genesis and Exodus,  and give you a taste of the Old Testament. Lots of archaeology facts and history, and application for our own lives.
Introduction
The Holy Bible,  used by Christians  world-wide as the guide for faith, is divided into two parts: The Old Testament of 39 individual books, and The New Testament of another 27 individual books.  Originally each book was written on parchment scrolls that rolled up, but with the advent of printing it became possible to combine these scrolls in an easier format, and then bring them altogether into what today we call the Bible. These individual scrolls or books were written by many authors, inspired by God as to content, but unified by the theme of God and the revelation of Himself to man.
The Old Testament
The Old Testament in the Book of Genesis, opens with Creation of the world and man, and centres on early history of people in the Middle East, beginning in the Garden of Eden, and then extending across the region.
Adam was the first man, Eve his wife, and they lived a peaceful life, naming the animals and talking with God in person. But when tempted, they failed, and as a result were forced to leave and lost direct communication with their Maker.  Major changes occurred as a result. Even though experiencing  God's judgement, they received the promise of His enduring love in the provision of a skin 'covering'  through the sacrifice of an animal.
The theme of God providing everything man needs for forgiveness is introduced through the shedding of blood. The life is in the blood.  The killing of an animal sacrifice ends a life. We don't know exactly when man began to offer animals and other sacrifices to approach and worship God. But animal sacrifice in itself could never take away a man's sin.  God states that in the Bible. It was symbolic and pointed ahead to  the ultimate sacrifice of God for mankind that would occur in the shedding of the blood of Jesus. The people may not have realised the full significance of this, but they deliberately placed their hands on the animal in order to indicate it represented them and that they were wanting atonement for their sin.
God Himself,  came to earth to live as a man, experienced what we experience, especially suffering, and then took upon Himself all the punishment God required for the sins of mankind by dying an agonizing death and going to Hell. But He rose to life again, and awaits the coming judgement for all mankind, and promises to reward those who love and obey Him.
I can remember the moment in time when  I saw in Genesis 22 the  plan of salvation in the Old Testament. It was these words of Abraham, who was talking with his son, Isaac,  "God will provide, HIMSELF,  a lamb,  for the burnt offering."  Long afterwards, John the Baptist,  watching Jesus approaching,  said to the crowds, "Behold,  the Lamb of God, who takes away the sin of the world (John 1:29)."
Where was the Garden of Eden?  Scholars believe that it  was on the junction of four rivers : Euphrates and Tigris  with the Pishon and Gihon (Gen 2:10-14). The later two rivers have not been identified. The Euphrates and Tigris Rivers rise in the Caucasus Mountains and flow southeast to empty into the Persian Gulf. However, since Adam's day,  thick sediment settled on the river beds at the mouth of the Persian Gulf and pushed the entrance to the union of the Euphrates and Tigris Rivers far upstream about 100 miles.
It is thought that the Garden of Eden is located as a group of mounds, about 12 miles south of Ur at a place called Eridu.   This region is approximately the centre of the earth's surface, where it is believed all races of humans originated. Archaeologists have focused their work in this region, and uncovered many artifacts that reveal ancient civilizations.
Other locations that will become important in Genesis include:
Ur – home of Abraham was just 12 miles from Eridu, a well developed city of culture and learning, although it took recent archaeology digs to prove it even existed.
Fara, traditional home of Noah, which was 70 miles away.
Deep anquish for Adam and Eve when one of their sons, Cain, killed his brother Abel.  Sin had entered the world. The couple had another son, Seth whose descendants are followed in the history that unfolded.
All of them lived incredibly long lives: Adam 930 years; Seth 912 and his descendants to Noah, who lived 950 years. By this time  man had learned how to use copper and iron, and invented musical instruments. The length of people's lives, however, rapidly began to decline after the next major upheaval.
About 1, 600 years from Adam, Noah lived in a period of wickedness that grieved God so much He sent a flood to destroy everyone. But, by having Noah build an Ark, God saved his family and many pairs of all the animals so life on earth could begin again.
Genesis 6:9-18 tells the history of that terrible period when the boat, 450 feet long, 75 feet wide and 45 feet high, divided into compartments, and as big as a current ocean liner, floated during the deluge, while everyone else on earth died. Noah was in the ark one year 17 days; 5 months floating, 7 months resting on a mountain. The Ark rested now on Mt Ararat, 500 miles away from where it had been built. (Note: I saw this mountain in the distance in Turkey on my way overland to Iran.)
This tremendous deluge of water that fell on the earth is  believed to have destroyed a misty film that surrounded the earth and had protected people from the damage by the sun's rays.
Archaeologists have found a layer of mud, five to eight feet thick, deposited by that flood, in three places: Ur (home of Abraham), at Fara (Noah's home)  and at Kish, a suburb of Babylonia, with possibly a fourth place in Nineveh.  It contains no evidence of civilization within that stata, but identifiable ones both above and below that layer of soil. Interesting.
Noah had three sons, from whom all races developed after the Flood (Genesis 10:1-11:9): Ham, Shem and Japheth.
Hamites went south  to places like Central Arabia, Egypt, the eastern shore of the Mediterranean. Three of his sons went to Africa. Caanan, the son of Ham, and his descendants gave his name to a land which later became the homeland of the Jews. A grandson of Ham, Nimrod, was an outstanding leader who build three cities in the Babylonian Valley and also founded Nineveh. For many centuries afterwards, these two cities, Babylon and Nineveh were the leading cities of the World.
Shemites included  Assyrians, Syrians, Elamites, and settled in the north Euphrates Valley and its borders.
Japhites went northward and settled in the regions around the Black and Caspian Seas, and became progenitors of the great Caucasian races of Europe and Asia.
It appears that Noah migrated back to his  pre-flood home. Noah lived 350 years after the Flood, and died two years before the birth of Abraham.
The next major event in Genesis tells of the confusion of tongues at the Tower of Babel, which occurred in the 4th generation after the Flood. (Genesis 11:1-9) The tower was built in the centre around which the famous city of Babylon was built. There are two locations thought to be its origin. Probably a Ziggurat, a temple, built in human pride seeking power,  and idol worship.  God caused the builders to suddenly not understand each other's speech , confusing them, and thus halting the completion of this project. People spread out as a result,  populating  distant regions.
There are about 25 known Ziggurats still in existence today, located mostly in Iran and Iraq. One of the best preserved is the ziggurat of Ur (where Abraham lived),  in the present-day Dhi Qar Province, Iraq.
Long before this period, the ancient Sumerians believed their gods lived in the sky. When the Babylonians took over in the south, and the Assyrians in the north,  Ziggurats continued to be built and used in the same manner as they were in ancient Sumer. The tallest ziggurat was 300 feet high. It wasn't until recent times in the 1800s A.D. that people began to realize the importance of these discoveries.
A Ziggurat
The appearance of Abraham, from Ur, has special significance  as he is considered the founding father of the Jewish nation. He felt compelled by God to leave his home in Mesopotamia near the Persian Gulf and travel with his family to a distant land he did not where, heading  north/west  on the major trade route to Canaan. Hebrews  11:8.  Genesis 12.
Although he was surrounded by idolaters, Abraham was a man who believed in  One True God. His faith that God would take care of him, even though he left the security and safety of his current life, is a lesson to encourage all of us.
Trust in the Lord with all your heart. Lean not on  your own understanding. In all your ways acknowledge Him, and He will direct your path."  Proverbs 3:5,6
About 600 miles northwest from Ur was Haran, Abraham's first major stopping place, where 'they settled.' Here, his father died. Now, aged 75, Abraham started again moving south into Canaan with a large caravan of followers. He was not a nomad, but of some wealth. He stopped at several places on his way south, first at Shechem.  He built an altar of worship here, then moved on to Bethel, about 10 miles north of Jerusalem. He built an altar for worship, and continued on to Hebron, where he bought a piece of land which  became a burial plot, and where he chose to settle.
The rest of the story of his life, including the time he spent in Egypt because there was famine in Canaan, focused on obedience to God. He was a righteous man, and God made a special covenant with him.
Not only would he have a longed for son with his barren wife, Sarah, but his descendants would be  many. God promised that all nations of the world would be blessed through him. However, great strain developed when Abraham had a son  with someone else.
The drama and jealousy between the heir of promise, Isaac,  and his half brother, has continued to this day.  Ishmael by Hagar, Sarah's Egyptian handmaiden, would make his home in Arabia, and become the father of Arabians.  When man tries to fulfill God's will through his own efforts, suffering results.
The history now diverges briefly to focus on Lot, Abraham's nephew, and the destruction of Sodom and Gomorrah. Genesis 19.  Lot had been kidnapped by invaders, and was rescued in a swift raid by Abraham and 300 of his men. These two relatives,  however, separated because of the demand for grazing room for their large herds of livestock.  Lot chose to settle near these cities.  That he was miraculously saved  when God destroyed Sodom and Gomorrah is another evidence of God's promise to Abraham.
Where was Sodom and Gomorrah? Most likely the southern end of the Dead Sea. Scholars believe that the cities are buried under the Dead Sea. There is a mountain nearby called "Sodom' or Usdom.
The Dead Sea
In Abraham's time, about a third of the southern end of the Dead Sea was a plain. Today the waters at the southern  end are barely 10 feet in depth, while at the north end they reach 100 feet in depth. There is belief that during the destruction of the cities, tumultuous events occurred,  changing the terrain. The Dead Sea today is below sea level and has a 25% salt content.
Sarah died age 127 years, and was buried in the Cave of Machpelah that Abraham had bought and is on the west slope of Hebron. It is now under a mosque, who permit no Christian to enter. [Here are buried Abraham,  Isaac his son; grandson Jacob,  and Jacob's wives, Rebekah and Leah]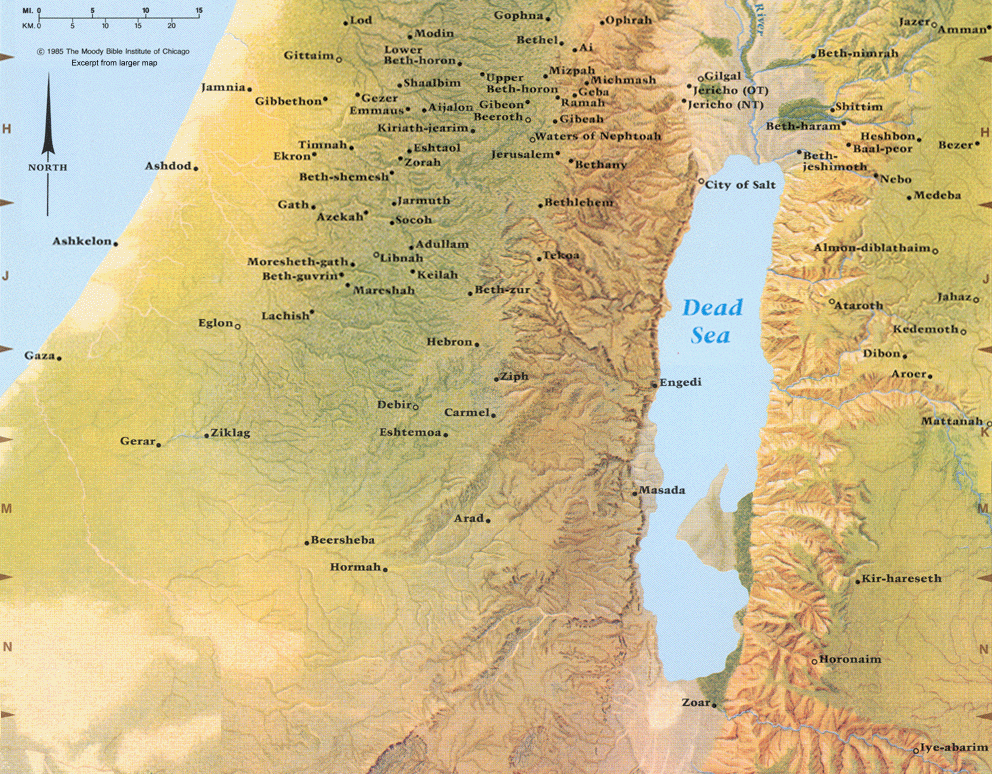 The story of Abraham's son, Isaac, and his love for his bride, Rebekah,  from  a marriage his father arranged, and their life together,  is passed over fairly quickly. She had twins, Esau and Jacob, and the latter boy becomes the chosen one to continue the lineage of Abraham and the Jewish nation. Esau became the father of the Edomites, whose history continued the conflict between the families in later years..
Although Isaac inherited his father' s wealth and continued the same pattern of life, he engaged in agriculture near Gerar (Genesis 26:12), which was very successful.  However, he found it necessary to move to Beersheba in order to maintain peaceful relations with those around him.
It is Jacob,  whose life now takes centre stage towards the end of the Book of Genesis.  Jacob stole his brother's birthright, a special status in that era.  That event caused Esau to hate his brother and plan to kill him, so Jacob was forced to flee, not knowing it would be almost 20 years before he would see his family again.
He went north to Paddanaram,  to his mother's family near Haran, where he married two daughters of his Syrian uncle, Rachel and Leah. Jacob had children  with their two concubines and all together fathered 11 children there. He finally returned to Canaan a very rich man. Genesis 31
The meeting with brother Esau, whom Jacob feared, went well and they departed in peace. Jacob settled his family at Shechem, and worshipped God.
Tragedy struck when Jacob's daughter, Dinah, was raped. Her two brothers, in revenge,  wiped out a whole city to murder her attacker. This led to great turmoil and Jacob was forced to move his family to Bethel. Genesis 34. But God met with Jacob and changed his name to Israel, and extended His blessing on this family now of 12 sons.
Benjamin has been born, but Rachel died in childbirth.  She was buried near Bethlehem, at a place called Ephrath. Jacob continued on to Hebron, the home of his father, Isaac. Jacob and his brother Esau, who returned from Seir, buried their father there.
In God's line of promise, all of Abraham's sons but Isaac were eliminated, and only Jacob of Isaac's children was chosen. Now all of Jacob's descendants are included in the Chosen Nation.
The Book of Genesis closes with the account of the life of Jacob's favourite son by Rachel–Joseph. His brothers were deeply jealous of him. They plotted to kill him, but were persuaded by one of them to sell him to some traders, who took him to Egypt, a boy of 17. He was sold as a slave, and spent 12  years in jail for crimes he did not commit. Over time Joseph rose to the second highest position in the land, just below Pharaoh. As  the Chief Administrator, Joseph gathered and stored huge quantities of grain because he had been warned by God of a coming period of great trouble that would last seven years.
Because God gave him great wisdom and blessed his efforts, Joseph was able to save his own Jewish family  in the terrible famine that was wide spread, even into Canaan.  Jacob reunited with his son. Now aged 130 years old, he moved all the persons belonging to him totalling 66 (plus the wives of the sons)  from Canaan to Egypt. ( Genesis 47:9-12), Adding Joseph made  Jacob's family that came to Egypt a total of 70.  (Gen 46:27).
Pharaoh  gave them the best area of Goshen, and Joseph  oversaw their care.   Jacob died in Egypt. Joseph took his father's body home to Canaan and  buried him in the cave at Hebron.  Thus a span of 215 years passed from  Abraham coming to Canaan and Jacob going to Egypt.
All returned to Egypt to live out their remaining days. Nearing his death,  Joseph has Jacob's descendants promise to take his bones back to Canaan when they  would finally leave in the future–which turned out to be 430 years later, a nation of about 3 million people, which introduces the Book of Exodus. The Israelites didn't forget Joseph, and we remember him to this day.  Exodus 13:19.
Joseph's embalmed body was years later buried near Shechem in a field that his father, Jacob, had given him (Genesis 50:26; Joshua 24:32) and near the well Jacob built. A church was build around the well in the 4th Century, and rebuilt by the Crusaders; there is today an unfinished Greek Orthodox basilica on this site.
When speaking to his brothers who had been so cruel to him as a lad, Joseph understood 'when life hurts'. He said " Do not be afraid, be grieved, or angry with yourselves because you sold me. You meant evil against me. God  meant it for good. He sent me before you to preserve many people alive. Now, therefore it is not you who sent me here, but God.…I will provide for you, and he kissed all his brothers and wept on them and afterwards his brothers talked with him."
What a testimony of forgiveness, and grace– unmerited favour–and of love. Are these not the qualities we so long to have in our own lives and especially with our children  and others. It is a glory to overlook an insult, and Joseph kept on doing that all his life.  He rose above his pain, and turned it into blessing, and saved the lives of thousands because he did.
God has a plan for each one of us. What is your destiny? Are you another Joseph, struggling to rise above the cruelties of life, even in a prison for something you did not do?  There are many prisons in life, not just the physical ones. Perhaps the greatest battlefield is our own mind.  You may be destined for something great,  yet unknown, and are being tested just like Joseph.
Or,  are you like the Pharaoh who, years later, forgot him and hated the Jews and tried to kill them all.  Most of us, I think, are somewhere in between. It is a wise choice to embrace the lessons  from these people, and let the God of Abraham, Isaac and Jacob be honoured, above all else.
The Book of Exodus
The history of Egypt as a growing world power was tempered by the invasion of the Hyksos, people using horse and chariot, which were unknown to the Egyptians, and who arrived from Asia to occupy the land about 1700 B.C for about a century and a half.  It was probably during this period that the history of Jacob moving to Egypt occurred. In time, the Hyksos were expelled, and three dynasties reigned in Egypt increasing its military power. The following history of the Exodus occurred:
Under Thut-mose III, the Egyptian army marched to the Euphrates River in Mesopotamia, and sailed the Mediterranean Sea along the Phoenician coast.
He was the greatest conquerer in Egyptian history, and his tomb is at Thebes.  He may have been the oppressor of Israel. If so,  then famous Queen Hatshepsut may have been the Pharaoh's Daughter who rescued and brought up Moses. Otherwise, it was under Ramses II (1300 BC) that this event occurred.  Either way, Moses was raised by one of the two greatest Pharaohs of Egyptian history. Ramses raided Palestine several times.
Egypt's power weakened in the next two dynasties. It was a land of many gods. Temples were numerous in the land. Egyptians believed in a life after death. This is evidenced in the pyramids in which adequate provisions were made for the royal afterlife. Even servants were slain and placed beside their master's bodies.
About 300 years passed between the Book of Genesis and Exodus,  from the death of Joseph to birth of a new leader God chose, Moses, from the Levites, a Jewish priesthood.
Egypt had many Pharaohs, who became increasingly alarmed at the rapid increase of the Jews, whom they saw as a threat to national security. They reduced them to slavery. The Israelite people,  forced into increasing  hard labour,  are credited with building the city of Ramses. Exodus 1:15-22. This period has been established as about 1450 B.C.  (We realize now that God was preparing his people physically for the arduous journey ahead. Could it be that God is working in the circumstances of your life today and mine for something yet to be revealed)?
A cruel Pharaoh  ordered the death of all Jewish male newborns. But one such baby, Moses, was hidden and then miraculously adopted by Pharaoh's  daughter, who paid his mother to care for him.
Moses was instructed in all the Egyptian wisdom and learning (Acts 7:22). This was the New Kingdom period of Egyptian history. The Book of Exodus is the life story of Moses and of the Chosen People, the Israelites or Jews that God sent Moses to lead out of the land and back to Canaan. Moses is considered the greatest prophet in Jewish history (Deuteronomy 34:10).
From a position of high esteem, however, Moses was forced to flee the land when he killed an Egyptian trying to help his own people. He lived for the next 40 years in the backside of the desert in Midian in the area near the Gulf of Aqaba. Even his journey to get there and then back to Egypt may have taken him twice over some of the same ground he would later lead the Israelites. God prepared him.
But God also humbled him.
Moses married and had sons, and became a shepherd.  It was at Mt Horeb (Mt Sinai) that Moses received his miraculous call from God.
With his brother Aaron as the spokesman, the pair, now in their 80s, faced the wrath of a new Pharaoh–probably Merneptah (1235-1220 BC) or Amenhotep II.
How amazing that today, we can see the face of the Pharaohs in Moses' life. All four mummies  of these  Egyptian leaders have been found and are on display in Cairo.
When Moses asked that the Jews might leave for three days to worship their God, Pharaoh refused. He continued to do so through terrible plagues that God sent to prove He alone was mightier than any Egyptian god or Pharaoh. However, when all the first born sons, including Pharaoh's son,  and first born of all livestock of the Egyptians died in a night, . Pharaoh had had enough, and expelled the Jews.
The Israelites left the same night in a hurry, but plundered their neighbours for silver and gold, which was given willingly because the people now feared the God of the Jews and Moses. It was this wealth that would later be used in religious worship. The departure of several million people was no small event, and Egypt never  rose to world fame again after the destruction of its economy during the plagues.
This event is called The Exodus, and is remembered every spring by the Jews with the celebration of the Passover and Feast of Unleaven Bread.
A journey that should have taken no more than 11 days on a well-travelled road, took them 40 years through a wilderness because of continual rebellion, idol worship and discouragements. God supplied quail and manna for food and even gave them water out of a rock in one instance. It took time for Moses to get them organized, but he did at Mr Sinai, where they arrived within the first three months.They remained there for about a year where they were given the Law, especially the 10 Commandments as the guide for life. It was here that God initiated a covenant with a people who had been slaves but now became a nation.
The people, under Moses' guidance,  also developed a Tabernacle system for worship, and received many rules for living that protected them especially health-wise.  These are listed very specifically in next two books of the Old Testament.
Model in Timna Valley Park, Israel
Now the 12 tribes marched in specific order,  when the cloud of God lifted from over the tabernacle or His fire in the sky moved at night. Moses had a trumpet sound in two long blasts to alert the people it was time to move.
A census taken shortly after leaving Egypt,  and again just before entering Canaan, indicated about 600,000 Israelite men, aged 20 and over ready for battle in both census, plus all the women and children, flocks and herds and a few others that accompanied them. Somewhere between one and three million people on the move. What a miracle in itself that the nation survived and overcame tremendous odds, even as Israel still does today.
When they reached Kadesh Barnea, about 40 miles southwest of Beersheba,  where they would stay for some time, 12 spies were sent to study the land of Canaan. Upon their return , the people accepted the negative report of 10 spies,  instead of the glowing report by two others, Joshua and Caleb.
This led  to an open longing to return  to Egypt. The people threatened to stone  Joshua and Caleb,  and demanded new leadership, until God punished them by opening the ground and swallowing the main rebels,  The 10 spies died in a plague.
So God pronounced judgement that everyone, except Joshua and Caleb,  20 years and older would never enter Canaan. Everyone who left Egypt, but two men, died on that  journey.  This led to some confession of sin with the people humbled. They immediately tried to enter Canaan, but were defeated. Theirs was not a true repentance because the people continued to grumble and complain.
Are we doing the same thing? Looking at all the negatives in life, instead of the the blessings, even blaming God at times. Perhaps God is holding back the answer to our prayer requests because of our lack of faith in His goodness and our complaining. Forgive us, LORD.
Not long afterwards, both Aaron and Miriam died and Moses' attempt to cross the land of Edom was refused. So the people turned south, towards the Gulf of Aqaba, then gradually  back up until God's decision was fulfilled and people died off. It was the children of those who left Egypt who re-established the Jewish nation and entered Canaan.
Moses, himself, was not permitted to enter because of one serious sin, but he did see Canaan from the top of Mr Nebo, where he died.  Moses gave over leadership to Joshua he had trained, and the Book of Exodus ends with the people at the border, ready to conquer the land.