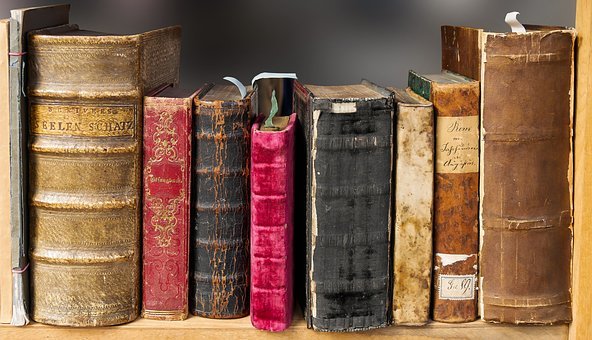 This month has been my introduction to the world of publication, and it has been an emotional upheaval.  l have been deeply stressed. I had a dream; it was not to be. But I learned a lot, so let me share some of that with you. All funds are in Canadian Dollars.
My two brothers and I wrote our life story of memories of our childhood and young adulthood growing up in a rural village in Ontario. I later compiled these three stories with accompanying photo albums into a MS Office Word document. I spent hours editing my own work, while waiting for my siblings to complete theirs.
Looking at what others had done, I decided I liked a 6-inch x 9-inch paperback product for its nice size and easy of handling. I grew excited as I poured over old photo albums, and scanned photos into the booklet. My happiness grew as I visualized the final product. The genealogy charts of my Dad and Mom's family history were carefully crafted. My brother both sent me their stories so I added them.  I really like Editor in MS Office 10 which picks up spelling mistakes, clarity and so on. I ran it many times over all documents involved.
I spent a hundred dollars ordering office supplies online, due to the Emergency Lockdown caused by the pandemic.  I am nervous to go out because of the increasing danger from the Cornavirus. I have never ordered online before from Staples. When that box arrived, the ream of paper was wide open obviously a damaged package they wanted to get rid of. I registered a complaint, but was able to use the paper for this project, the two cartridges of printer ink, a new flash drive, and so on. Have heard nothing in reply.
I then printed off the booklet in full colour as a reference guide for the printer's staff.
My perception was that I would present my booklet for printing and get back 30 copies exactly as I had prepared it, but with better photos and in a slightly smaller size. Perfectly bound with a glossy, green cover representing our Irish roots. I was not sure what it would cost to have this done in full colour, but somewhere under a thousand dollars. I received an initial verbal quote of $20 a volume, and wondered how someone could pay that and make a profit on a booklet they might want to sell. Same price if I wanted 1,000 volumes.
What I Have Learned:
Just as there are different personalities, so I think there must be printers that are different. I had my expectation. It was not this company's. This printer had his own system and expected me to agree to  changes that he thinks will look much better.  That may be quite true, but I prefer my own work.  I don't see close up very well now as a senior and need a large size for ease of reading. I feel I chose the wrong printer for my personality.
I feel assured he knows what he is doing, but it was upsetting to have my  dream shreaded the next day. I went into a depression.  Over a few days, I gradually accepted that my vision was not to be, but the booklet would be fine anyway,  and recovered. There were other things that added to that reaction,   but I was so heavily invested emotionally,  I grieved that loss.
Hotmail also caused problems when it refused to send my documents because they were too large.  I found a  weakness with MS Office Word documents. They do not transfer long documents without moving pages out of alignment.
I wanted a Large Print volume, text size 14,  which the printer resisted a lot, so I do not think this business had much experience in that field. He also wanted the location of the page numbers be changed to the bottom of the page. I wanted them top right. I gave in. There may be logical reasons for these changes if I knew them, but I do not. Nothing was explained. They appear tiny in the book, but are fine.
Cost: astronomical. With tax, what I wanted was quoted was $802 with tax initially for 77 coloured or grey scale photos and 78 pages in total,  30 volumes. Or $26 per volume.  I initially agreed in hesitation, because I would have to start all over again not to do so. I had no assurance another printer would be any different. I submitted the $400 down payment for the project and approved a go ahead.
I wanted an ISBN number, which registers this book officially.  I also wanted the bar code matching this number to be printed on the back of the cover for future scanning by libraries. The original cost for ISBN registration was verbally quoted as $30, but I was charged $40.
A few days, I was told I could not have the smaller booklet  size without an even higher cost (who knows how high),  to prepare it, taking it out of my expense range. So I refused.  I was forced to settle for a regular 8 ½ x 11-inch size booklet to be able to afford them.
I await the final bill in a day or so, which I will post here, over which I have no control. But I should have a $300 rebate,  since we did not go with the smaller booklet. Meaning my last bill should be in the $100 to maybe $200 range to finish.  I brace myself for an even higher bill because the staff had to make many changes.  Suddenly I am told the printer will deliver me a hard copy of the book, and after that approval, will also deliver the rest of the volumes I ordered. That drops my stress a lot.
I need to learn pdf format, and how to convert a MS Office document to do that. I discovered I had a pdf printer and used that to create a file. I looked at Adobe, but they want a subscription fee I don't want to pay.  The printer needs the booklet draft in pdf format.
I can cut back on taxi fares as the printer says he will deliver. I am deeply grateful. That also means I never meet anyone from the business at all.  I dropped off my material in a drop box at the office, but payments and communication have all been over the Internet.
With Office supplies already $110, my cost, nonetheless  for this project will be substantial. I used all the ink, both colour and black, which cost me $70 that I now need to replace.
Finally, I will need to pay for postage and packaging to ship these volumes in many directions. So, the cost continues to rise. Was it worth it?
Yes, this is probably my final gift to the world and my family.  It has brought my brothers and I together in the last days of our lives. We are talking about things that matter. We know that something of who we are will not be lost, as this volume is going into our early home library and other locations.
What I appreciated a lot was being able to email the woman preparing the document. I vented my strain, and was comfortable with her work and things I needed to do to finalize the preparation. Looks good.